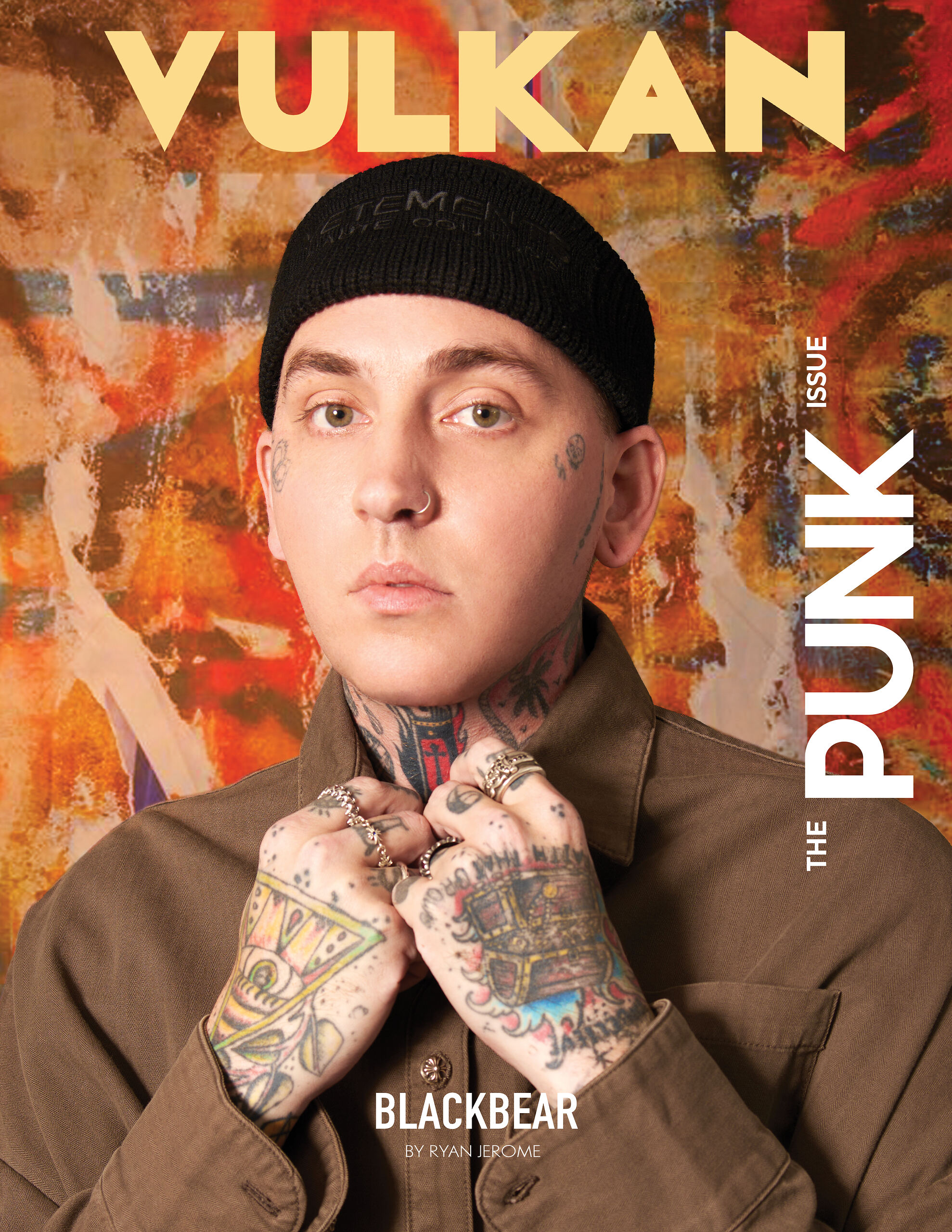 FOREVER NUMB
Since breaking onto the scene in 2013, artist blackbear has been frequenting the charts with his unique mix of pop, r&b and rock. His catchy melodies, genuine voice, and blend of humorous and emotional lyrics, alongside his eccentric person- ality has made him a big figure in the industry and a favorite among listeners across the world. His hit song 'hot girl bummer' spent 42 weeks on the Billboard Hot 100 peaking at #11. The artist also frequently collaborates with other famous musicians such as Machine Gun Kelly, Mike Posner, Ellie Goulding, Billie Eilish and many more. In 2022, the artist not only released his new album and went on tour across the US, but also welcomed his second son with wife Michele Maturo. His latest album 'in loving memory' is the artist's 7th studio album and was created alongside Blink- 182's drummer Travis Barker. The album features an original and modern take on early 2000's pop punk and deals with topics such as the loss of a parent, becoming a new version of himself and being a father. Find out more about blackbear's rock- star lifestyle, life advice, and songwriting process in this exclusive interview!
EDITOR IN CHIEF + PHOTOGRAPHER RYAN JEROME STYLIST MITCH MODES  GROOMER  ARLEN JEREMY @CELESTINE AGENCY  WRITTEN BY ADRIENNE STRAND
PRODUCTION @MAISONPRIVEEPR_LA x @BELLOMEDIAGROUP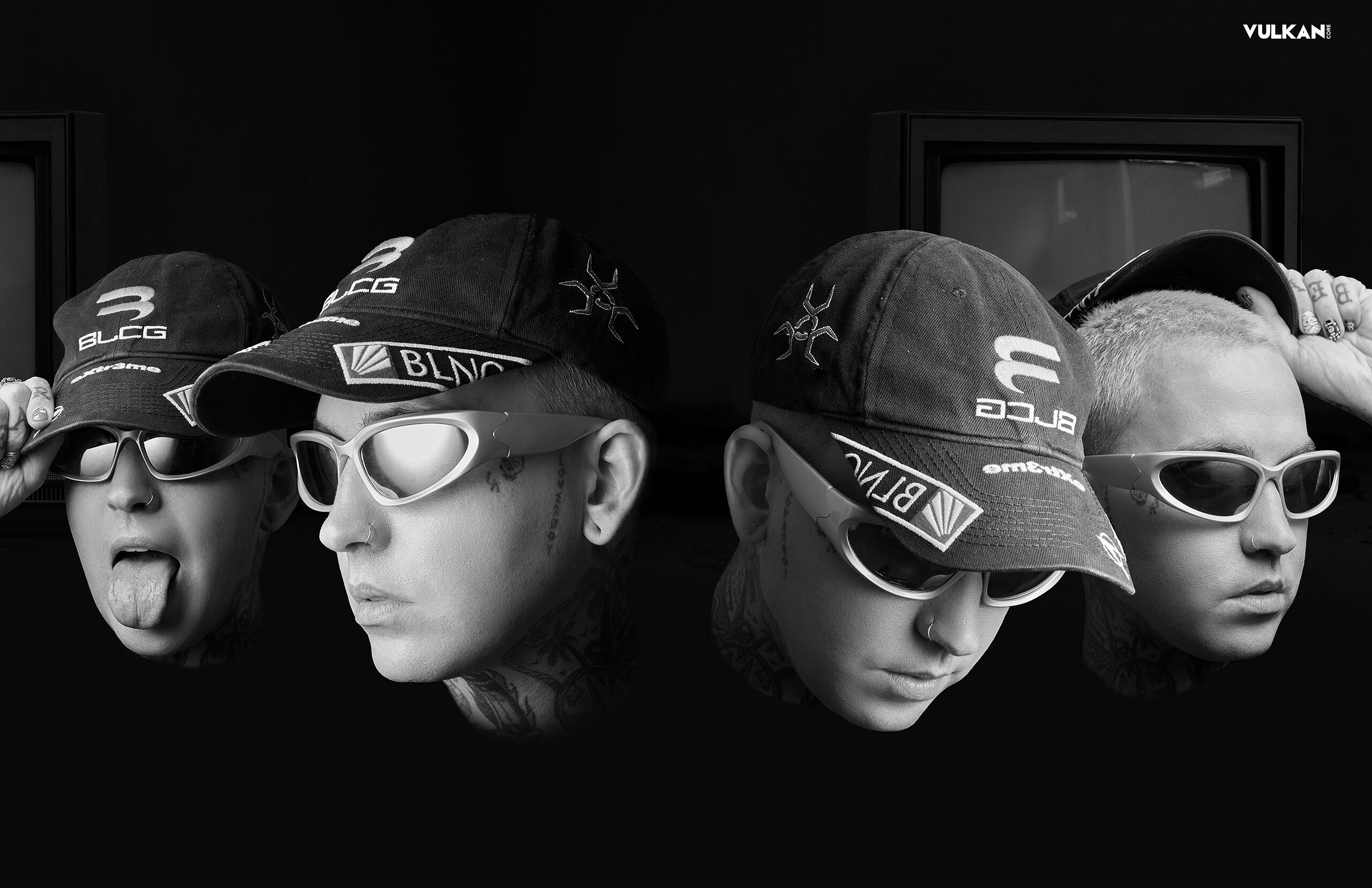 Tell us about Blackbear, why is this your artist's name and how did it originate?
My name came from the Florida state bear, the black bear. I was born in Day- tona Beach, FL and we'd see them all the time in our backyards along with gators crossing the street etc.
You are a one of a kind artist with a unique sound in music, at what age did you know you'd want to do this for the rest of your life ?
Thank you. I noticed at a young age that Ben Gibbard of death cab for cutie and postal service had a unique voice like it sounded like he was talking to me so I wanted to find my voice that was me just talking but amplified. It took a long time. By the time I was 21 I still didn't have it.. I just wanted to sound like me.. How Anthony Green of circa survived sounds like him and u can pick it out of a crowd..I knew from an early age that I wanted to do this the rest of my life, probably about 7-8 years old when I started playing birth- day parties for $100 in garages..
Growing up who would you say were your biggest influences in music?
Probably blink 182 at an early age. then sublime.. I realized i wanted to live in California when I started listening to them and Red Hot Chili Peppers when I was about 11. then Neyo, Craig David, Brandy and Monica, Bone Thugz, then things like Rancid, Slipknot, Deftones, Minor Threat, Bad Religion Alkaline Trio and emo stuff like the Used Brand New and even Bright Eyes.
What other genres of music did you listen to and what drew you to them?
Haha, well from the last question it may not make sense why my influences are all over the place. That's just because I love rock and punk for the way it pumps you up and makes u feel alive and coun- try for the stories. R&B for the mood and bubblegum pop for the satisfaction it gives, emo for the lyrics and angst and also old brit rock like The Smiths for the same reason.
One song that you remember till to- day which helped you during a difficult time.
One song I have to say is Coldplay's, 'Fix you' or the scientist. Shit, a lot of Coldplay songs got me through sad times or tough times when we didn't have much money when I was a kid. Also my friend Elohim's music helps with anxiety. It was so nice to bring her on tour because I used to listen to her anyways before I hit the stage. Having her on tour and hear- ing her play whilst I was warming up was incredible.
You've collaborated with some of the biggest names in the industry, who do you have the most fun working with ?
I have had some good times with Andrew Goldstein my producer, and Travis Barker is fun and interesting and we always have such good conversations, Linkin Park was fun to work with. I can still hear Chester Bennington beatboxing in my ear for an hour. I love working with MGK he is just such a sweet dude. He doesn't take any shit and has such a deep outlook on life, touring with him was fun. Adam Levine is fun to work with, he's got crazy stories and Mike Posner is my lover and brother. We make out our entire session basically.
Walk us through your current style. What are your fashion favorites at the moment?

There's a new shoe company called SCRY LAB that I am into, insane silhouettes. I am into archive Raf Simons always, and Rick Owens foot- wear and jeans. Baggy stuff has been my shit lately so alot of Vetements but I've been on my cozy shit mostly and I've been wearing things like jjjjound sweat suits and Seleh Ben- bury crocs to be honest. I think the perfect fit takes vision and a colorway and a silhouette. it matters what your shadow looks like too 😉
Can you tell us the purpose behind your new album, 'In Loving Memory'?
Finally someone asked! It is a concept rock album about my real father passing away. I never got to say goodbye so I just started writing songs to tell him how I feel beyond the grave and I ended the album with 'hazel inside,' a song about being a dad myself now and how I want to have the relationship with my kids that we never had together.
What is your songwriting process like?
I like to wake up really early in the morning and run a few miles, then take a really cold shower and get my brain pumping. Then I like to sit in my car and cry and write tweets that turn into songs. I also just get in a room with people and make stuff up too.
From living a true rockstar life to now having conversations about mental health, why was this important to you?
Having a handle on your mental health as an adult is a rockstar lifestyle. Getting drunk and high and having sex with as many people as possible is not the move at least from where I'm sitting right now. It's important to stay focused if you have a dream because one day you'll wake up alone in the same place with nothing to show for yourself and your work, or you'll wake up next to people you love in an incredible place because you worked everyday towards your dream and stayed healthy and focused. Go to therapy, get it all out and get professional help because it's there and most people take basic insurance!! GOOD MENTAL HEALTH ALL THE WAY!
Congratulations on being a dad for the second time, how has your family influenced your current transition in your life ?
Thank you! And well. I don't think about myself all the time. I think about my wife and these little humans first. They are everything to me. I try to be the best man I can for them cause I'm the only dad they get. I stay focused on them. I stay sober for them. I make sure to make them feel loved everyday. and try to show them how to respond with love.
More recently, punk rock subculture has found itself in the mainstream media and is being widely appreciated by many, what do you think inspired this change?
I feel like pop music goes in cycles. In the 90s, alternative was basically the biggest music and then in the 2000s pop and boybands were everything. In the 2010s hip hop and r&b ruled the world. and now in the 20s I feel like we're finding our sound and it has all these influences attached to it. Indie rock and pop and hip hop and emo and punk all live simultaneously together. With Tik Tok i feel like everyone kinda moves around depending on how their feeling and I love it!
What comes to your mind when you think of punk ?

Vivienne Westwood, The Sex Pistols, the middle finger, the color pink and black. Leather, spikes, attitude, angst, happiness, depression, anger, and togetherness. Community to put it plainly. I think of myself and my youth and shows and the jocks and preps being the enemy. I think of getting beat up by rednecks because how tight my pants were even though their Levis were just as tight. I think of a lot when it comes to punk. Freedom.
If you have to create something punk other than music what would it be?
Clothes maybe? Hair color?
What can your fans expect from you in 2023 ?

Not much I'm taking it easy!