Producer and former international baseball player Alex Bentley has created "On Deck", a new scripted series following the story of an aspiring professional baseball player that deals with his career coming to an end, finding himself a new purpose in life. Vulkan was lucky to get to speak with Bentley on the new show that will feature actors Don Benjamin, Xavier Jimenez and will be the perfect show for baseball fans worldwide. 
As a professional player, Alex Bentley has scored wins on the field in Mexico, Europe, and for Team Israel, as well as on the set of the FOX hit series "Pitch". Fresh from his recent success in Universal's hitman-action film BECKMAN, Alex has been keeping busy assembling the talented cast and all-star cameos for another win in his upcoming baseball-drama series. Take a look!
You have an interesting backstory jumping from sports into now the entertainment industry. Do you recall the moment you knew you wanted to be part of the entertainment industry?
There was never "a moment" so much as film and tv makes it seem like there always is. It's something I've always known I wanted to spend the rest of my life doing once I'm done playing ball. I've been a storyteller as long as I've been able to speak. I couldn't even wait to hang up my cleats before flinging myself into entertainment– I actually turned down multiple university scholarships offers to attend the film/tv program at the extremely modest San Diego City College. I've always had this triangular love affair between the two crafts (baseball and filmmaking), constantly cheating on one with the other. Now I've finally found a way to combine them both with On Deck.
Tell us about your current project "On Deck." 
It's going to be the best baseball tv series of all time. Why you might ask… well for one, we've got cameos from Fernando Tatis Jr, Harold Reynolds, Jennie Finch, Scott Boras, Adam Jones and so many more major faces from the baseball world. But secondly, and even more importantly, I've been obsessed with authenticity since day one. On Deck is a show people in the sports/baseball world will resonate with for several significant reasons, but for me, the biggest is we can sniff out corny bullshit from a mile away. So the attention to detail making sure everything is authentic is huge for me. I was a part of FOX's baseball show Pitch and saw first hand that having all the licensed logos and cameos from sports personalities in the world doesn't make the show feel real. And I think that's why that show didn't make it past season 1– it wasn't authentic and the baseball world (millions of what should've been the most dedicated viewers) tuned out instantly.
Is this a project you always wanted to develop since you were young or developed in your recent age, finding it as a story that needed to be told? 
On Deck is a combination of three things: 1) the painful ending to my playing career, 2) a lifetime of wanting to see amazing baseball films and shows, yet I can count the only good ones on one hand and 3) just creating what I want to watch as a fan, not what I think will sell as a producer. On Deck just happens to be both. (And yes of course certain aspects of our show like the Houston Astros cheating scandal, Barry Bonds, Pete Rose, minor league players salaries, etc. are just too potent of topics to not tell an amazing story around.)
Tell us about a memorable experience on set.
Well let's take it right back to Pitch. This is actually the way I got my first speaking line and first seconds of screen time in my career. I was a featured extra in Pitch, playing a San Diego Padres player (crazy how that turned out being my first role after giving up on becoming an actual San Diego Padre to pursue acting). It's my second of six days on set and I noticed the A.D. (Assistant Director) gather the three former major league baseball players who were the other featured extras. So I just followed them from talent holding to the Padres clubhouse where they were setting up the next scene. I saw a couch in the middle of the room and figured it would be a good spot to sit and be seen in both camera's shots. I thought worst case someone moves me. Long story short after the first take Paris Barclay the director yells cut and walks right up to me. My first thought is "well that was fun while it lasted, but I definitely just got fired." He leans down to me and says "that reaction was great. Can you do it again?" Then he had the D.P. (Director of Photography, aka cinematographer) reframe camera 2 to be a close up on me. The next day I was told to say something and just like that, co-star credit and screen time. But just the entire Pitch experience was me LITERALLY living my childhood dream for a week. Playing on the field at Petco Park, in my own Padres uniform. I'll book a lead role in a Marvel movie and still probably not have as much fun as I did on that set for Pitch.
Honorable mention would have to go to hanging out and road tripping 1 on 1 with Alan Ritchson (fan favorite Thad Castle) on the set on Blue Mountain State. We had just spent the day at an exotic animal sanctuary shooting scenes for the movie. He was generous with his knowledge– I gained a year of experience in one day.
How did you get so many people involved with On Deck?
I'm still not sure how I was able to assemble established Hollywood badasses like Ser'Darius Blain (Jumanji), director Rick Wayne, and Don Benjamin. The baseball cameos all came first. The face of the sport Fernando Tatis Jr, bless his generous heart, happened via Instagram. He saw the vision and liked the scenes we had in mind for him. A month later we're on a yacht in San Diego shooting his scenes. The rest of them came by surprise at the MLB Winter Meetings, which we crashed with our D.P. and one of the actors. We only went to capture some B-Roll and ended up shooting scenes with some of the most famous people in sports. Unreal. But to answer the question in one sentence, the one thing all these stars have in common is they see my vision for what On Deck is, what it could be, and especially, how many millions of people want something like this SO MUCH.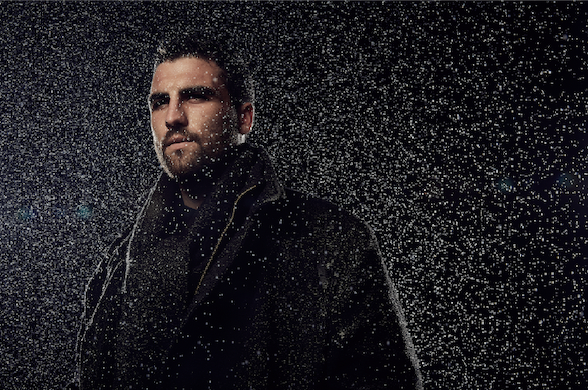 Where do you see this project airing?
Netflix, NBC, Hulu, HBO, Starz or the CW. I say this with humility, but honestly, can you think of a single streaming service or network that wouldn't benefit from a youth friendly, more wholesome version of Entourage or Ballers right now? On Deck has a massive audience, and it's so much more than a baseball story.
As a producer, what do you hope to accomplish the most?
My goal producing On Deck is to create a story that infects the culture. I want high school players quoting and discussing scenes from the show while they play catch and warm up at practice. I hope little leaguers look up to our characters Jaedin Hill and Maxey the way they do real big leaguers. I close my eyes and see people who have spent their entire careers in professional baseball nodding, saying "Yup, that's exactly how that goes in real life." My goal is to create the best and most authentic baseball tv show of all time. And in doing so, spark a few extremely important and controversial conversations topics in sports. (Astros cheating scandal, minor leaguer's getting paid jack shit and Bonds/Rose being banned from the game and Hall of Fame.)
What advice do you have for others wanting to produce a project?
Well… I'll speak to writers/producers who have not YET produced a project that's been sold or picked up with a few pointers I've learned along this journey:
Let the work speak for you(in this era of relevancy and social media, a lot of creators and artists really discredit themselves by desperately promoting something that's not ready). I can't stress this enough: do not be another Hollywood wannabe, we have enough of those. Be an exception.
Under promise and over deliver.
Don't be offended when you get negative feedback, just make sure you're getting it from people whose opinion matters (people with more experience than yourself).
You need an amazing pitch deck, script, and breakdown of your characters. With those, the rest (cast, brand integration, press, etc.) should fall into place with consistency, thick skin, and hard work.
Do your best to surround yourself with exceptional and experienced people. Don't beg, only bring them in if they are passionate about your project. But if you haven't ever successfully made or sold anything, you should find people who have. Your networking and communication skills are a huge part of being a producer. Each person is different, and you need to find ways to bring value to VIPs if you want them in your project. What makes yours special and worth their time?
This is one I take pride in: feed your cast and crew well. You can't always afford everything on set the way the big studio projects can, but one place to never go cheap is quality food for the people bringing your vision to life with you. I can't tell you how quickly I get turned off from a project as an actor when the set provides shit food. I can show you firsthand how much of an impact it makes on your crew when they get fed really well after hours of working their asses off. And until you've got some legit funding, you're probably paying them less than they deserve or have made in the past. Feed them so well it sets a new standard for them on other sets. It's worth the extra $150 and is 100% in the best interest of the project. (Which should be your thought process with every decision.)
What is something about you that people may not know of you? 
I grew up in the middle east as a teenager. I speak Hebrew, English, and Spanish. I played professional baseball for two years while juggling auditions early on in my acting career. I'm a former member of the Israeli national baseball team. I couldn't visit my mother in Israel for a decade because the IDF (Israeli Army) refused to release me of the mandatory three years of service upon turning 18. Love to cook and surf. I still coach and umpire youth baseball. Before becoming an actor, I used to sneak into events pretending to be someone else, I would create backstories and everything. Good thing I found an outlet for that creative desire of high stakes excitement.
Favorite TV show and Movie of all time?
Such a torturous question for any filmmaker and film lover, so I'll give my top few. Favorite baseball movies: Moneyball, Sugar, The Rookie, and Million Dollar Arm. Favorite films: The Town, V for Vendetta, Lion King, Chef, After the Sunset, Happy Gilmore, King Arthur, The Count of Monte Cristo, and The Dark Knight (The Snyder Cut may have just snuck its way into my top 10 too). Favorite TV shows: House of Cards (first two seasons only), Batman: The Animated Series, South Park, and an incredible Israeli single camera dramedy called Asfur. The entire show is in Hebrew. John Wells bought the rights from Guy Amir and Hanon Savyon around 2010, but Burbank Studios/John Wells are sitting on it. One day it will be made. I believe the American name for the intellectual property is now Hard Ups, but I'm not sure. I know the story like the back of my hand. Who knows, maybe I'll end up being the show runner for that one. I swore to myself a decade ago if they brought that show to life I would play an integral part either on screen or as the primary producer.
As you may know, Vulkan is a style and fashion magazine. Please describe to us your style and sense of fashion.
You're all going to hate me (chuckles). I wear sweats and a black t-shirt or hoodie almost every day. I think it comes from spending my whole life in baseball pants and catcher's gear, so when off the field, comfort always mattered more than swag. Not that I don't rock the shit out of my gray Marucci sweats. But I'll still be dressed like Adam Sandler when my net worth exceeds eight figures. However, I will say I have one brand I'm OBSESSED with, and that's MCM. Literally any item they make with the Viestos/Cognac. I also love short sleeve hoodies, Original Grain watches and 9Five sunglasses. And as much as I don't care to style myself, I put a ton of detail into what these characters I create wear. It can tell you so much about someone before they've even opened their mouth.